Collections
Shop for artwork based on themed collections. Each image may be purchased as a canvas print, framed print, metal print, and more! Every purchase comes with a 30-day money-back guarantee.
About LINDA SMITH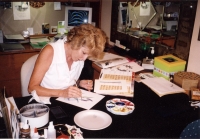 I have always been intrigued by traditional Asian ink paintings, and when Oriental Ink Painting (Sumi-E) was offered at a local college over 30 years ago, I immediately signed up. I took the course so that I might have an understanding of Chinese painting, but I found that it has given me a greater understanding of life itself. I discovered Sumi-E as a powerful source of self-expression and a pathway to personal spiritual experiences in nature.

Oriental Ink Painting is the oldest living art in the world, possessing a beauty that transcends time. It is a classic, elegant and gentle art form with a beautiful philosophy that inspires my own life and values.

There is a spiritual dimension in the discipline of Chinese painting which becomes a meditative experience. For those interested in eastern philosophy, Chinese painting is a most concrete and specific means to approach the elusive nature of Daoism and Buddhism. The extraordinary Chinese brush and ink capture instantaneously the vital rhythms of nature in a way that no other medium can.

Oriental Ink Painting is appreciated by a discerning mind and cultivated taste. It is an affirmation of the beauty of life and an enrichment of the spirit. It is artwork intended not only for the eye, but also for the mind and heart.

I am a resident of Clearwater, Florida, a member of the National Sumi-E Society, the local Sarasota Chapter of the Sumi-E Society, and the Fu Sang Artists Guild of Dunedin. My work has been exhibited in local shows and galleries, and my paintings are included in private collections in various countries all over the world. Sources for my subject matter include: indigenous cultures, landscapes, dreams, legends, beach combing, travels and library and museum visits. I have studied over the years under Asian Master Sumi-E Calligraphers/Painters and numerous western instructors, both private instruction and workshops.

I choose to paint in the Oriental manner because I love it—it is my passion—and I am living my dream. This journey of imagination sustains me with a vibrant tranquility. The four classical subjects of Oriental Ink Painting are the bamboo, the chrysanthemum, the plum blossom and the orchid. It is said that to master the bamboo requires a lifetime, and so—with this wondrous, infinite path before me, I begin.

Aesthetics and Materials

Basically, Chinese painting possesses three distinctive qualities:

Simplicity—the love of simplicity is exemplified by the depiction of a few well-chosen elements with an economy of line and a conciseness of expression. Accordingly, the painter is sparing with brush and ink, thus creating an intriguing suggestive quality that provokes the imagination of the beholder. The aim is to capture only the spirit and essence of an image or idea—paint not what the eye sees but what the mind knows, inviting the viewer to laugh, cry, dream.

Spontaneity—the nature of the brush and ink demands an instantaneousness of technique. There is a directness from mind to hand to brush and paper. Energy, force, and movement are inherent in each rapid brushstroke, alive and irrevocable. The painting must be swiftly executed "in one breath" transforming that one moment in time to the timeless.

Asymmetry—in Chinese aesthetics, the difference between asymmetry and symmetry is the difference between natural and mechanical, dynamic and static, art and artifice. In every instance, the former is highly preferable to the latter. The aim is to create a dynamic equilibrium rather than a static balance.

The related concept of the positive use of Space plays a major role. The fluid and skillful use of pure space in Chinese painting has become highly evolved and sophisticated—where the painting is delineated by a few well-placed strokes which demarcate the space and define the entire picture. This profound and lucid space not only serves effectively in harmonizing all the elements in a painting but also gives a hint of the infinite, thus imparting poetic feeling and a spiritual dimension. The imaginative possibilities inherent in this liberating space are boundless so that the viewer's own experience is brought into play.

The Four Treasures

Brush—the Chinese brush is unique, with the distinguishing feature that the tip always ends in a fine point, no matter how large or how small the brush. The hairs gradually taper in layers from the inside, resulting in a conical shape with the longest hairs on the outside encompassing a kernel of shorter hairs. This method of brush construction allows for tremendous flexibility and versatility, responding to the will of the artist. To directly experience the Chinese brush is to know a truly fine brush.

Ink—ink uses brush as its sinew and bone. Brush uses ink as its spirit flower (Shen Hao). Chinese ink is permanent, indelible and does not fade with time. It is transparent and possesses a wonderful richness and depth of tone, vibrant with luminosity. Chinese ink comes in solid form. It is made from pine soot or lampblack, blended and mixed with glue, compressed, set in a mold, and dried into stick or cake form. The ink stick is then embossed with Chinese inscriptions, polished and gilded.

The ink stone is the object on which the ink is ground. It is made of slate with a well-like area on one side to store water. Ink is made by grinding the ink stick with water on the ink stone. This rhythmic grinding movement is part of the ritual of conditioning your mind and body for painting.
Paper—Chinese painting is usually executed on rice paper, mulberry paper, or silk. Rice paper is most popular—it is delicate, yet strong at the same time, noted for its absorbency and gives the optimum effect in Chinese painting because it responds well to the ink and watercolors well.

Seals
One always notices the distinctive red imprint of the seal appearing on most Chinese paintings. The seal usually bears personal names and may be used alone or with the signature of the artist. It is also a common practice for owners to add their seals to paintings, so that paintings of antiquity may have many seals of subsequent owners. The seals themselves are made from a variety of materials—ivory, jade, soapstone, wood, horn, metal.

Exhibit and Awards History

Although I have been painting now for over 30 years, for most of those years, it's been my hobby. I began exhibiting my artwork when I retired from the corporate world almost eight years ago. Following is a brief outline of my awards history:

FuSang Art Guild of Dunedin—Numerous First, Second Place and Honorable Mention Awards (these are highly prized awards as it is in competition with other artists who do the same type of painting – sumi e).

Tarpon Springs Fine Art Show—Award of Excellence and numerous Patron Awards.

Largo Central Park Artists' Market—Patron Award, Honorable Mention Award.

Temple Terrace Arts Council Fine Art Show—Purchase Award.

Pinellas Park Art Society—numerous First, Second,Third Place and Honorable Mention Awards.

South Pasadena ArtSpring—Third Place, Honorable Mention Awards.